Discover more from Foxy Fox Blog
A blog mainly on mind control, child trafficking and abuse.
Over 2,000 subscribers
Craig "Shoeman" Sawyer V4CR #4 - At the Border
The Shoeman
The Border
There is a massive problem at the border with trafficking of drugs and people, often run by the drugs cartels. For some background on it, see the start of this post. Child Trafficking Part 1 – Tucson, Child  Trafficking Camp? [498] 
Sawyer
Sawyer and V4CR are under pressure to produce any evidence, that in 6 years of the existence of Veterans For Child Rescue, Sawyer or V4CR has fulfilled Sawyers promises, to not only rescue children but to show the child extractions. The totals are on zero, whilst the donations solicited are in the millions.
Sawyer and V4CR are also under pressure to show that he has arrested any child traffickers, child pedophile rings or satanic cult pedophiles that he claimed he would do.
It is no surprise then to see Craig Sawyer, in a desperate response, going down to the border for an evening, and claiming to have found his first two trafficked children! This smacks of yet more Sawyer propaganda and PR. However we will examine those claims.
The evidence so far is that Sawyer says he found a group of 8 migrants. He says he was near the border fence, although it cannot be seen. The migrants are five men, one woman and two children, having travelled for 3 weeks from Guatemala. Sawyer telephoned Border Patrol, who promptly turned up.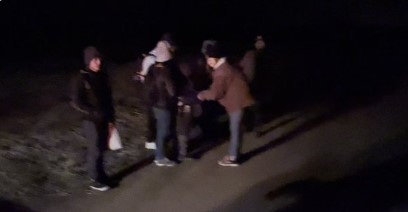 Although Sawyer calls these children "trafficked", he provides no evidence that the children were trafficked.
What were the signs that the children were trafficked?

Were the children with their family?

Was the whole family being trafficked against their will?
Rather absurdly Sawyer asked the group if the children had been harmed and they said no! (They are not likely to say yes, if they are traffickers, Craig). It perhaps indicates that Sawyer has not much experience of this sort of border patrolling.
The "child trafficking" claims need vetting and Sawyer needs to provide full transparency. There is no evidence as yet that this is child trafficking, nor any sign of traffickers - just a family of migrants crossing the border with 2 children.
It shows desperation to try and claim these are trafficked children without providing any verbal, photographic or physical evidence of that. To be able to vet Sawyer's claims, Sawyer needs to provide the evidence that they were trafficked. It may well be a forlorn hope that he does so, but we live in hope of Sawyer being transparent.
Next day Sawyer's latest is that he has found a camouflaged shoe. Wow.
This has unpleasant echoes of Tom Hanks and his shoe/sock finding and "prediction" of whistleblower Isaac Kappy's death. Tom Hanks is accused of being a child trafficker.
It is also reminiscent of Tucson camp when VOP found many things, which Sawyer at first promoted and U turned and rubbished.
Finding a long abandoned shoe also compares somewhat badly with what VOP have been doing on the border.
Veterans on Patrol (VOP) find, film and report actual traffickers and pick ups and drop offs in real time / almost real time. They do not waste time trying to make a big deal about one item of long discarded clothing.
Trafficking at the Border
Veterans on Patrol
The sort of border work that Sawyer is pretending to do, has been carried out for years by Veterans on Patrol. Their tally must be in the hundreds or even thousands. Veterans on Patrol (VOP) with Lewis Arthur and other volunteers who have been boots on the ground at the border, day in day out for years, shrugging off Sawyer's relentless and disgraceful bullying and harassment of Arthur.
The organised traffickers and scouts are often dressed in camouflage, as can be seen from footage on the VOP Telegram site. VOP have a good understanding of the trafficking, how it is carried out and what the routes are. They monitor trafficking routes with cameras fitted with night vision, and they work all the time with the Border Patrol. They target the organised trafficking. The cameras give an idea how the traffickers work. A scout is seen on the right, whilst groups are in the others. Rendezvous points are also targeted.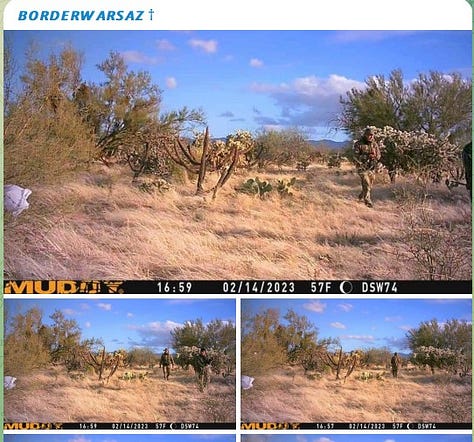 VOP live in basic camps, they have at least two camps on the border and run several operations at several border locations. They operate on a shoestring, showing the dedication of their volunteers to the cause. I believe they also work with other voluntary organisations.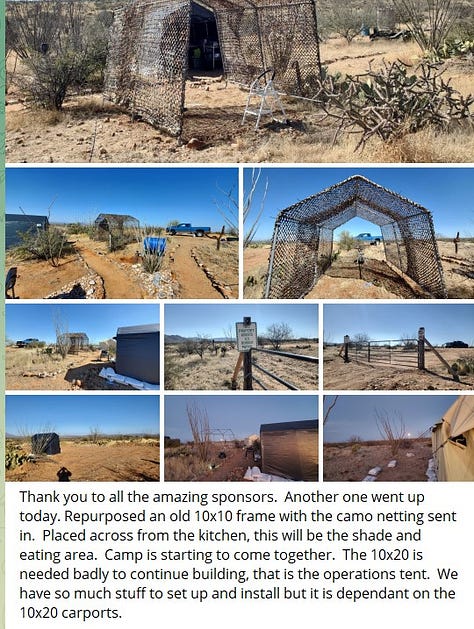 The camps are basic but functional and the VOP mainly ask for equipment, supplies and fuel vouchers as well as volunteers of course!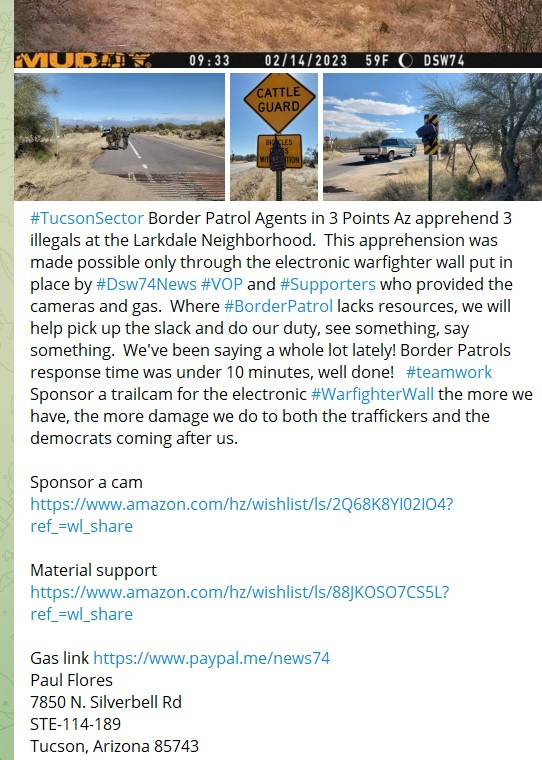 Veterans on Patrol are on Telegram under name BorderWarsAZ. [84] They started work with Veterans, to prevent suicides, and now they are also working on preventing child trafficking at the Border.
If you want to volunteer, they would be glad to hear from you at the number below 520- 500- 4506
Videos are on Telegram [84] and also on DarkSkyWatcher Dsw74News [85]
Lewis Arthur is one of the organisers for VOP.
VOP have already provided masses of evidence of trafficking and traffickers, more in a day than Sawyer has in 6 years of empty claims and boasting.
Sawyer has an unsubstantiated claim tally to date of 2 children and a shoe.
Oscar "El Blue" Ramirez"
For years Oscar "El Blue" Ramirez has also been regularly streaming from the border. Veterans on Patrol (VOP) and El Blue are the "go to" people for information on exposing trafficking at the border, not people who are all mouth and no trousers, who visit the border for a night for PR and propaganda, and then off the next day.
El Blue You Tube Oscar El Blue Ramirez Channel [201]
See also article Globalist Cabal Coyotes – Child Trafficking Part 4 Oscar El Blue [499w] [499s]
If there is anything incorrect in this article or any in this series, please contact cathyfox@zoho.com and corrections will be issued.
Other relevant blogposts
Bonus Sawyer Shoe Gallery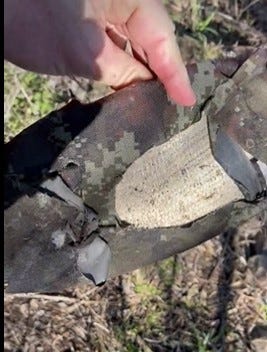 Links
[84] Telegram Veterans on Patrol Border Wars AZ https://t.me/borderwarsaz
[85] You Tube DarkSkyWatcher Dsw74News https://www.youtube.com/@DSW74NEWS
[201] You Tube Oscar El Blue Ramirez Channel https://www.youtube.com/channel/UCDZiYZDRKloOWpYNGBuvJIQ
[200] 2022 Sept 17 cathyfoxblog2 Baby King 3 Clinton Foundation Pornography HQ McMinville https://cathyfoxblog2.wordpress.com/2022/09/17/baby-king-3-clinton-foundation-pornography-mcminnville/
[497w] 2022 Sept 8 wordpress cathy fox blog Kids Inc. Where is the Movie, the Money and Honeybee? https://cathyfox.wordpress.com/2022/09/08/kids-inc-where-is-the-movie-the-money-and-honeybee/
[497s] 2022 Sept 8 substack foxy fox blog Kids Inc. Where is the Movie, the Money and Honeybee?
[498] 2020 Oct 9 cathyfoxblog Child Trafficking Part 1 – Tucson, Child  Trafficking Camp? https://cathyfox.wordpress.com/2020/10/09/child-trafficking-part-1-tucson-child-trafficking-camp/
[499w] 2021 Jan 8 cathyfoxblog Globalist Cabal Coyotes – Child Trafficking Part 4 https://cathyfox.wordpress.com/2021/01/08/globalist-cabal-coyotes-child-trafficking-part-4/
[499s] 2021 Jan 8 foxyfoxblog Globalist Cabal Coyotes – Child Trafficking Part 4 and Links
[500] 2023 Jan 28 FoxyFox Craig Sawyer V4CR 1 - Tucson Child Trafficking Camp Sawyer U Turn
[501] 2023 Jan 29 FoxyFoxy substack Craig Sawyer V4CR 2 - Where are the Child Rescues?
[502] 2023 Feb 17 Substack FoxyFox Craig Sawyer and V4CR #3 - "Pedo Stings" https://foxyfox.substack.com/p/craig-sawyer-and-v4cr-3-pedo-stings #craigsawyer #sawman #V4CR #VeteransForChildRescue #LoriHoyt #pedostings
FoxyFox Social Media
Cathyfoxblog2 current wordpress blog https://cathyfoxblog2.wordpress.com/

CathyFoxBlog1 old WordPress Blog 2012-2022 https://cathyfox.wordpress.com/

FoxyFox Substack Blog / email list  2021- present
CathyFoxSubstack (archive of cathyfoxblog1)
RSS Feeds