Discover more from Foxy Fox Blog
A blog mainly on mind control, child trafficking and abuse.
Over 2,000 subscribers
The child raping Cistercian monks on Caldey Island were brought to the attention of the public in 2017 largely thanks to three brave survivors, pseudonyms Charlotte, Emily and Adele. Their story was well reported by Amanda Gearing. 2017 Nov 18 Guardian Revealed: monk who abused children on 'crime free' Caldey Island for decades. [21]
It was revealed that there had been multiple victims of child abuse by a monk, in the 1970's and 1980's. The serial child abuser was Father Thaddeus Kotik. Caldey Island Abbot Robert O'Brien had covered it up when it was reported to him in the late 1980's. He did not report it to the Police. The fact that Kotik had been on the island since 1947 raised concerns of decades of further abuse.
Civil Legal Case v Abbey
Charlotte and another female victim/survivor/ [VS] Emily had reported the offences to the Principal of their school, St. Phillip's Christian College in Newcastle, New South Wales, Australia in the late 1980s. Unfortunately the Deputy Principal of the school, Richard Rule, acted as an enabler of abuse and told the girls they "didn't need to talk of this again because God has forgiven everyone". The article from 2017 stated that Richard Rule was running a child care centre. This obviously raises/raised safeguarding concerns for the children in his care.
Charlotte, with some research, and doing the job many think the police should be doing tracked down five other women who had been abused. In 2014 in the abscence of any public prosecution, the 6 women hired Tracey Emmott of Emmott Snell solicitors to lead the case of 6 women against Caldey Abbey for an acknowledgment, apology, and compensation.
The Abbey however was not cooperative, backflipped on various previous admissions and used various legal tricks to avoid taking responsibility. The upshot was that the case had to be settled out of court and with meagre compensation payments for the survivor/ victims abused by Caldey Monks. Very importantly there was no apology.
Child Abuse
After the 2017 publicity, more survivors came forward and more revelations followed. To date the survivors campaign say around 30 survivors have come forward. This is still expected to be only a small fraction, due to the length of time the perpetrators were abusing, the number of monks actually abusing and the number of monks who at the very least knew about the child rapes and child abuse and were thus enablers.
This is the testimony from one survivor…
When Father Thaddaeus was abusing me, while he masturbated over me, at least a dozen monks were also masturbating and ejaculated over me. They took off my T shirt as it was drenched in semen. In my view every Monk knew, even the Abbot. It was industrial abuse of children.
Abuse has now been reported on Caldey Island, since at least since the 1960's [61]. The legal case relied on abuses in the 1980's and 1990's but survivors believe that child abuse is still going on, precisely because so many monks knew about it.
There were child abuser visitors who were monks, like Father Charles Jeffries, a friend of Thaddeus Katik, but there were also other child abusing men who had become used to turning up on the Island every year. It was a safe place to abuse children with no consequence, as Caldey Island had no child protection measures in place and police never patrol the island, ever. Sympathetic monks could be trusted to smooth over anything that might be dangerous to abusers.
Even when children visit the island in the summer there are no police patrols, and so Caldey has become a magnet for child rapists.
Perversely, the "first crime" official on the island was recorded in 2016 for a dad mishandling his own son. Father who manhandled his 'misbehaving' seven–year-old son [76]. That "first crime" report of course indicates how reality is different from perception and official record as the monks had been abusing children for years.
Whistleblowing on Abuse and Abuse Deniers
Part of the problem of perception and official record is that survivors are not believed and no action is taken. For survivors it is often like living in a parallel universe, where the normal rules that seem to apply to everyone else do not apply to you. One raped child was told by the abusive monk that if he told anyone about the abuse the following would happen
"God would turn his back on me

The devil would come and take me either from under the bed or through the mirror at night

A severed hand would come through the letter box, climb up the stairs onto my bed and strangle me" Cistercian Monk Child Abuse and Trafficking on Caldey Island [7s]
This would be scary enough as a child - raped by a monk, supposedly a representative of a higher power of good and then threatened that God would turn his back on them, the innocent victim of abuse. That the devil would then get him and a severed hand strangle him.
But when the child does find the courage to overcome those threats and tell about the abuse, everyone around denies or covers up the abuse. There was no help from the parents of one child as they actually pimped the child to the monks, whilst supposedly the child was under the care of the local authority. Children are told that the abuse did not happen as monks would not do that sort of thing. The children are gaslighted, ignored, told not to say such wicked things, told that God has forgiven the abusers, or even worse has forgiven everyone - as though the abused child needed to be forgiven. The innocent abused children are often even punished for telling the truth. They learn to keep it to themselves.
This scenario of people not believing that you were abused can continue even when you disclose the abuse as an adult. The survivors have already been through the hell of abuse, struggled through their childhood of not being believed most likely with PTSD and other mental health effects. Whilst a distinction is made between physical and mental health - these are physical effects - just in the brain. The neural pathways in the brain formed under abuse and stress are not the ones that ideally would be formed in a kind loving atmosphere. These pathways are further confused as the love often given by an abuser as part of the grooming process is often welcomed, is lacking in the rest of the child's life, it is what a child yearns for. This love becomes all mixed up with the unwelcome abuse taking place. Often abuse is taking place even before sex drives have kicked in. One of our basic human drives for sex which is usually associated with pleasure is now associated with pain and suffering.
It is often the people who have had kind loving upbringings that cannot see outside of their own paradigm. They cannot empathise, they seemingly have cognitive dissonance and in their ignorance become vociferous that others are making wicked accusations against kindly people. They are blind to their own ignorance, ignorance not only of the abuse itself but of the system that allows it and hides it. Instead of taking their anger out on the perpetrator they take it out yet again on the victim.
An example of the inner conflict between yearning for love and the bad lessons learned as a victim of abuse is shown by Mark. Mark was a victim of abuse by Kotik. As Kotik was a family friend, ie had groomed the family in preparation for grooming the child, then Kotik kept seeing Mark. This continued even when Mark has left his parents. Mark even in the course of time took his own son to Caldey to see Kotik. It should be pointed out that Mark ensured that his son never left his side.
Mark now is horrified at what he did, saying he cannot forgive himself.
"Looking back, I cannot forgive myself for putting [my son] in such a vulnerable position despite me or another adult being with him all the time," Mark said.
But what Mark did is understandable and there is no need to forgive himself. It takes time to heal from abuse. It takes time to make new neural pathways and stop using those old destructive neural pathways. It is much harder to correct or relearn new pathways as an adult, than it was to lay down defective pathways as a child, when we are like a sponge of learning, especially under conditions of high stress. To Mark's great credit he has formed new neural pathways and understood the destructiveness of the old ones.
Anyone want to explore those issues on healing see Caylen Hartwell Mind Control Survivor [11] where there is a good interview and links. I would also recommend Joseph Chilton Pearce Magical Child [12] which gives the ideal blueprint, the correct stimulation, of what inputs a child's brain needs over time.
As as adult, survivors courageously tell their stories and often meet even more harassment and bullying. Some people absurdly demand "concrete proof" of abuse. Concrete proof from years earlier when those being abused were children, not even comprehending what horrific things were happening to them, often by people who they trusted and even loved.
What concrete proof do these people want? No concrete proof can possibly be given in 99.9 % of cases. What the "concrete proofers" appear to mean is that they will never believe survivors, that they cannot accept that these horrors happen, they appear to not want to cross the barrier of reality and want to live in their fantasy world. In essence they take an anti survivor stance, whilst hiding behind the veneer of an excuse about proof to protect themselves.
These concrete proofers are often the ones who have had loving background and have little understanding of how others had suffered. Conversely they can also sometimes be people who are denying their own abuse, afraid that if they admit that abuse happens they then have to face up the harsh reality of their own abuse, rather than box it away and pretend it did not happen. Maybe the idea of a monk being an abuser is something people cannot comprehend, or they have cognitive dissonance at the evil that some people can perpetrate, or worse still they have an agenda so they side with the abusers.
Locations of Caldey Island Abuse
There are plenty of hidden places all over island where abuse can and did take place. Children have been abused in many places over the island including the woods, ruined buildings and isolated rocky coves near the beach.
Kevin was abused and went to Calday in 2019 to face up to and overcome his demons and to help his healing. Amongst the places he was abused were some ruins…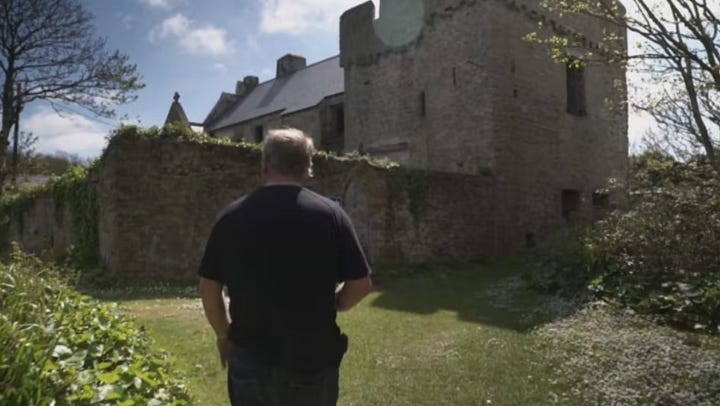 Below is Kevin arriving back on the island. The video of Kevin's visit, click on pic to open video in new tab.
2019 Jun 17 Odysee S4C Caldey Island Abbey Catholic Abuse Kevin O'Connell 23min57s [oca5] #CaldeyIsland #csa #ChildAbuse #revisit #monks #cistercian #catholic #benedictine
The monastery garage was used to entice children by having a chest full of sweets in there. The room beside the dairy was used to abuse after the child was lured into the Dairy with a bribe of chocolate or ice cream made there.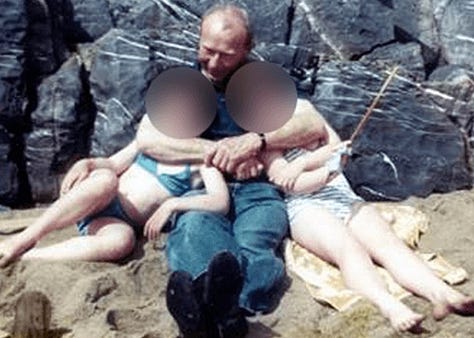 Caldey Island Abbot's Kitchen Chocolate and Caldey ice cream were made by the hands of child abusers and in a circular horrible dystopian irony the chocolate and ice cream was then used to help lure more children into more abuse.
Please boycott any products made by the monks.
As well as the monks I gather there maybe about 40 residents on the island. Resident children as well as visitor children were abused.
Caldey Island Abbey Monks, Brothers, Fathers, Abbot Responsibility For Abuse
The problem with protecting children on Caldey Island is that the Abbey / the monks and in particular the current Abbot Daniel van Santvoort, exploit every opportunity they can to hide the truth. Essentially the Abbot not to be transparent, but to obfuscate, use loopholes, use grey areas, use legal dodges and delays.
These include
Caldey Island is a privately owned. The Abbey either does not allow the police to patrol or the police choose to not patrol

Child Safeguarding checks were denied as it was claimed that the monks do not mix with children so do not need safeguarding checks. Luckily survivors had the photographic evidence that the monks do mix with children so at least now the monks are officially subject to a DBS vetting check.

The monks refuse to accept that child safeguarding is overseen by the local Diocese of Menevia in Swansea, who have been advised the Abbey on their safeguarding policies. I presume this is the local Catholic diocese. Caldey Abbey does not come under their responsibility but Bishop Tom Burns said that "the Abbey has insisted on retaining its oversight of any specific cases, past, present, or in the future."

The Abbey claims now to have a child safeguarding officer. However the "safeguarding officer" is an ex policeman. The police have failed the children and survivors over the years, and having an ex police as safeguarding officer is not independent nor is seen as independent. Caldey Survivors group do not trust an ex member of the police, an organisation who have consistently failed for decades to protect the children. How can he be impartial and seen to be impartial?

The Abbot and Abbey use opaque ownership of the island to evade responsibility and culpability. Caldey Island was bought by the Cistercian Monks in 1925 to be occupied by a group of monks from Scourmont Abbey in Belgium. Scourmont denied legal liability for the abuse yet Kotik a major abuser spent time at Scourmont. Armand Veilleux, Scourmont Abbot from 1999 - 2017, claimed Caldey was an autonomous house in civil and canon law. Teresa Elwes, a devotee who has maintained a relationship with Caldey and Scourmont for 40 years and knew Kotik, said the mother house, famous for its brewery could afford to compensate victims properly. [42]
Abbey and Abbot Legal Shenanigans
The civil legal process was dragged out from 2014 - 2016 due to Abbot Daniel van Santvoort refusing to admit responsibility or even give an apology. This is an age for suffering survivors, for whom the decision to take the monks on, was supposed to help heal, help bring some resolution to their bodies and minds still suffering from the abuse by monks. [21]
They did not achieve what they wanted. The abbey
backflipped on its previous admissions and claimed instead it had no knowledge of the alleged sexual abuse.

that there was an "evidential disadvantage" in that none of the monks at the abbey during the time of the allegations were still alive. The defence therefore required the abused children prove each offence.

claimed it was not liable as the priest was not employed by the abbey to provide care for children

invoked the statute of limitations, claiming the victims were out of time to sue for damages and it was not possible now for the abbey to get a fair trial

asked the court to find the claim should not be allowed because the seriousness of the allegations was likely to attract attention that may threaten the continued existence of the abbey!!
"The defendant tried to avoid their responsibilities by relying on the time limit loophole claiming the abuse happened too long ago and the claims were too late," Emmott said. "It took the issuing of court proceedings before out of court settlements were offered, and even then my clients' request for a formal apology as part of the settlement package was never forthcoming." Daniel van Santvoort refused even to comment when the story came out.
It should be pointed out that whilst not having achieved what they wanted, they did not fail, they achieved much. They were the Caldey Survivor pioneers. They drew a line in the sand saying that they would not accept being raped and tortured and abused and continue to keep silent. They planted the survivor flag and said we not retreating, we are not cowering in our bunkers. They climbed out of the bunkers of despair and went over the top and advanced. They went to the heart of the beast that had attacked them as innocent children. They fought the beast as best they could in a system that by accident or design favours the abusers.
They stood up to be counted. They achieved dignity and respect and an example for others to follow. They have built a bridgehead so that others can build on their achievements. I recognise your courage, your bravery and your desperation even to take this action to achieve healing from the legacy of what the monks did to you. I recognise what you will have been through in this legal battle, which is on top of the effects of the abuse. Disappointments and delays, emotional highs and lows, mental batterings and bruisings, frustration at the mindnumbing unfairness of it all, despair at the delays and further delays and machinations and procedures of a unfit justice system. Sheer disbelief that the monks who claim to be good but actually are defending evil in this topsy turvy world. Charlotte, Emily, Adele and the other 3 Calday Pioneers I salute you and your immense contribution, your achievement was huge.
Recognition must also go to Amanda Gearing whose article broke the story into public awareness. 2017 Nov 18 Guardian Revealed: monk who abused children on 'crime free' Caldey Island for decades [21]. This article not only exposed the Caldey Island monks but encouraged others to come forward and also exposed more and more abuse and abusers. Amanda wrote about nine excellent articles in all, sensitive articles full of information not sensationalism. They were talking truth to power, which to me is what what a journalist should do, but is now so rare in these days of mockingbird media narrative set on high with churnalists lower down carrying out their orders and taking home paycheques. I salute Amanda for her contribution to truth.
Some who came forward publicly are known to be Mark, Kevin O'Connell on behalf of himself and his dead sister Rebecca O'Connell, and Joanna Biggs who has also fought bravely and successfully to clear her sisters name, Theresa from lies told by nun Sister Sheila Singleton. Theresa died in a swimming accident off Caldey when aged 6 after having been given permission to swim by the nun who later denied it and Theresa's good name in death, was besmirched by the nun to cover up her own culpability. They both had been abused by monks.
Mark, Kevin and Joanna I salute you too. Rare courage from extraordinary people.
Many times, "The Abbey" is referred to. The abbey is a building, whether or not it has legal standing in law I do not know, or what legal entity or construct the monks of Caldey Island hide behind, but what I do know is that the Abbot is in charge. The buck stops with him.
Abbot Daniel van Sandvoort
The current Abbot is Daniel van Santvoort. Abbot Daniel van Sandvoort went to Caldey in 1990, became Abbot in 1999 and is the current Abbot. [33]
The newspaper put it diplomatically by using the word "backflip". I will be more direct, Abbot Daniel van Santvoort LIED when he said he did not know that there was previous abuse. As well as lying Daniel van Santvoort did everything he could to stop natural justice for the children who had been raped by Caldey Island monks. He refused to give an apology and only meagre compensation. A Godly man would surely have been contrite, and offered a generous apology and compensation commensurate with the crimes perpetrated by the Monks of Caldey Island.
Theere has been no proper apology for the abuse, there has been a limp apology that the abuse was not reported to the police when the previous Abbot was told about it. He was told about it by survivors, parents and staff.
Daniel van Santvoort was Abbot and hence in charge when
the Abbey lied about the Abbey not previously not knowing about Katik's abuse, despite evidence to the contrary

the Abbey fought tooth and nail to deny 6 survivors even an apology for their abuse

Paul Ashton, a child sex offender stayed on the Island 2004-11,

Father John Shannon stayed 2008-9 who turned out to be a child sex offender

John Cronin stayed for a month in 2009, another sex offender.

Brother Daniel said the abbey was working with Children's Commissioner for Wales, however Sally Holland has denied that is the case.[64]

many people and news organisations have asked Abbot van Santvoort for comments, but mostly he arrogantly refuses. eg Despite contacting the Brother [Santvoort] several times, he never responded. ITV [46]

it was stated that "the seriousness of the allegations was likely to attract attention that may threaten the continued existence of the abbey"
There is a pattern. This man, the Caldey Island Abbot Daniel van Santvoort (Gerard) has acted to cover up child abuse by Caldey Island monks.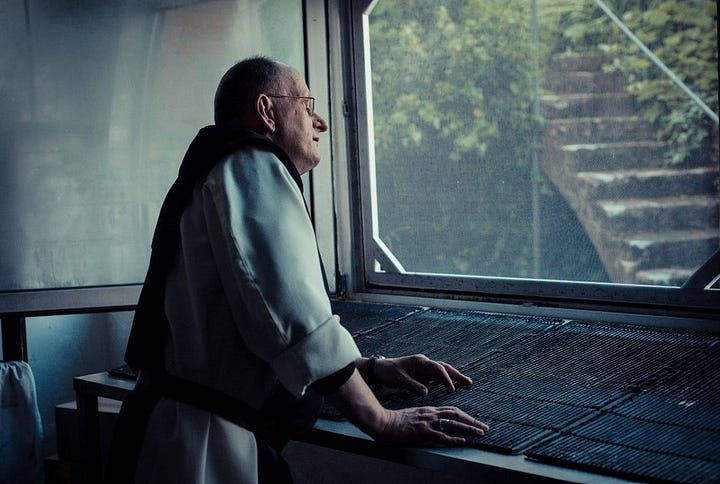 Abbot Daniel van Sandvoort is also reported to have a very quick temper, not something that most people might associate with an Abbot.
Daniel van Santvoort has resisted adequate child protection measures on Calday Island. Why would someone do that, never mind a supposed man of God?
Brothers and Fathers at Caldey Island
Whilst Santvoort undoubtedly has responsibility for covering up the abuse and his inadequate and frankly nasty and unChristian actions towards survivors, then there is a wider responsibilty of all the monks. The brothers and fathers must question themselves as to whether they are happy to be part of an organisation that covers up child abuse and treats the survivors of abuse by monks so badly. Even if the abuse was all in the past, which survivors do not believe to be the case, monks live on the island that the abusers lived on, use the same rooms that children were abused in. They use benches, the same cutlery that abusers used, the same dairy room that abuse occurred in.
Do the brothers and fathers respect an Abbot that treats survivors of child abuse like dirt, that were abused by a monk from their establishment ?
Do they respect an Abbot that refuses to even give an apology for child abuse perpetrated by monks on the island that you live on as monks?
An apology means so much. Why does Abbot Daniel van Santvoort not give an apology?
These Cistercian monks at Caldey refuse to take responsibility for the children abused by their own on the island, over decades, not isolated occurences, and the true extent of which has not been revealed yet. Have the monks no shame?
Child Safeguarding
The Monks now are now finally "vetted" to make sure they have no previous relevant convictions. In the UK is called a Disclosure and Barring Service [DBS] check. DBS Checks[13]. It was previously denied that monks mixed with children but following photographic evidence provided by survivors, that incontrovertible fact has now been accepted. There are various levels of DBC check, and the exact level /extent applied at Calday is not clear as yet.
The survivors group say that the DBS checks need to be properly and rigorously overseen by Religious Life Safeguarding Service [RLSS] [5] an independent team of safeguarding professionals offering safeguarding services to the Religious of the Catholic Church in England and Wales. Kevin from the survivors group says it paramount that the RLSS properly oversee DBS, so that children and vulnerable adults visiting and staying on retreat on Caldey Island are safe.
ITV Wales also contacted the Diocese of Menevia in Swansea. Caldey Abbey is not under their responsibility but they have been advising the Abbey on their safeguarding policies and practices for the last 18 months.
The Bishop Tom Burns said that "however, the Abbey has insisted on retaining its oversight of any specific cases, past, present, or in the future."
Police
Dyfed Powys Police refuse to patrol the island in the season April to Sept, which is when visitors are allowed, even the high risk time in the summer holidays. This is an obvious risk to children. Why won't the Police patrol? This is especially risky for children when Caldey Island is known to child abusers and paedosadists to be a safe place for them to abuse.

Dyfed Powys Police refuse to release a public facing report on the results of previous investigations of child abuse on Caldey. Why?

Dyfed Powys Police refuse to carry out a full investigation of child abuse that has happened on Calday Island. Why? Previously they have given an excuse that a perpetrator, preusmably Katik, is dead. What about the dozen other perpetrators?

Dyfed Powys Police have ignored victims, reported crimes with crime numbers have been ignored

Survivors of abuse have felt harassed by Dyfed Powys Police for telling their stories of abuse.
Once such previous investigation was this, Dyfed-Powys Police Temp Det Supt, Ross Evans, said the investigation into allegations of non-recent sexual abuse on the island was ongoing and the force was working with known victims "to build a picture of events" [59] Is it not it time that survivors who have given many hours of statements to the Police received that picture of events that so affected and shaped their lives?
Dyfed Powys police why are they refusing to do a full on investigation to historic child abuse on Caldey Island and why have they ignored so many victims.
Two Welsh MP's were living or had second homes on Caldey Island during the 1970's, is this coincidence?
Welsh Assembly
The Welsh Assembly have done nothing. The Survivors Campaign that the Asembly turned them down 3 times for a Public Enquiry, it is unclear why. New evidence is coming forward all the time.
Children's Commissioner for Wales is Rocio Cifuentes for the next 7 years. She has shown little interest in the plight of victims of child abuse from Caldey. Why will she not press for an Inquiry into abuse on the island that lasted for decades and a Police Public Facing Report on what has happened?
Conclusion
Caldey Island Abbot Daniel van Santvoort refuses to apologise for abuse committed by Caldey Island monks. He refuses to get independent safeguarding, he malevolently sought out every opportunity to cover up the child abuse that occurred.
If they were really God fearing monks, then you would think there would be contrition, profuse apology, atonement and restitution.
Is this a really a pedophile cult who dress in brown robes for protection and not actually monks who are abusers?
On Good Friday Calday Island Survivors group will launch their campaign to help bring attention to the abuse perpetrated by the Cistercian monks. A post will be posted here and a survivor Kevin will be giving more details to Sonia Poulton on Rise with BNT Twitter Sonia Poulton [15] Brand New Tube Sonia Poulton [16]
Please join in the campaign to help them. More details on this blog tomorrow. Also see
Caldey Island Survivors Facebook [3]

Caldey Island Survivors website [4]

Join the Caldey Island Survivors Campaign email list [17] Caldey Island Survivors Latest Developments and scroll down
Other posts on Caldey Island abuse
[7s] 2022 Oct 8 substack foxyfoxblog Cistercian Monk Child Abuse and Trafficking on Caldey Island
[8] 2023 Feb 28 Substack FoxyFox Caldey Island Abuse Timeline #CaldeyIsland #CaldeyIslandAbuse #cistercian #ChurchAbuse #Monks #CistercianAbuse
Links
[1] Caldey Island Monks Inquiries Email inquiries@caldey-island.co.uk
[2] Caldey Island Monks Prayer Request Form https://caldeyislandwales.com/prayer-request
[3] Caldey Island Survivors Facebook https://www.facebook.com/groups/caldeyislandsurvivors
[4] Caldey Island Survivors website www.caldeyislandsurvivors.org
[5] Religious Life Safeguarding Sevice RLSS https://religioussafeguarding.org/
[6] RLSS email safeguarding@religioussafeguarding.org
[7s] 2022 Oct 8 substack foxyfoxblog Cistercian Monk Child Abuse and Trafficking on Caldey Island
[8] 2023 Feb 28 Substack FoxyFox Caldey Island Abuse Timeline https://foxyfox.substack.com/p/caldey-island-abuse-timeline-and #CaldeyIsland #CaldeyIslandAbuse #cistercian #ChurchAbuse #Monks #CistercianAbuse
[9] Wikipedia Scourmont Abbey https://en.wikipedia.org/wiki/Scourmont_Abbey [] https://web.archive.org/web/20230405094842/https://en.wikipedia.org/wiki/Scourmont_Abbey
[10] Scourmont https://www.scourmont.be/questions-cisterciennes/2177-dom-armand-veilleux-a-turning-point-in-the-order-s-history.html
[11] Caylen Hartwell Mind Control Survivor https://foxyfox.substack.com/p/caylen-hartwell-mind-control-survivor #caylenhartwell #cathycollins #healing #childabuse #csa
[12] Joseph Chilton Pearce Magical Child https://www.amazon.co.uk/Magical-Child-Rediscovering-Natures-Children/dp/0452267897/ref=sr_1_1?crid=RSV9228DXSA7&keywords=joseph+chilton+pearce+magical+child&qid=1680693621&sprefix=magical+child+%2Caps%2C119&sr=8-1
[13] DBS Checks https://www.dbschecks.org.uk/what-is-a-dbs-check/
[14] Child Commissioner Wales website https://www.childcomwales.org.uk/
[14a] Child Commissioner Wales post@childcomwales.org.uk
[14b] tel: 01792765600
[14c] tel: 0808 801 1000
[14c] Twitter Child Commissioner Wales https://twitter.com/childcomwales?lang=en
[15] Twitter Sonia Poulton https://twitter.com/SoniaPoulton
[16] Brand New Tube Sonia Poulton https://brandnewtube.com/channels/@Soniapoulton
[17] Caldey Island Survivors Latest Developments https://www.caldeyislandsurvivors.org/latest-developments
[17] https://www.caldeyislandsurvivors.org/newsletter-registration
[19] Caldey Island Survivors Facebook https://www.facebook.com/groups/caldeyislandsurvivors
[20] Caldey Island Survivors website www.caldeyislandsurvivors.org
[21] 2017 Nov 18 Guardian Revealed: monk who abused children on 'crime free' Caldey Island for decades https://www.theguardian.com/uk-news/2017/nov/18/revealed-monk-who-abused-children-on-free-caldey-island-for-decades Father Thaddeus Kotik. Abbot Robert O'Brien knew.
[42] 2017 Dec 22 Guardian Woman abused as a child by Caldey Island monk waives right to anonymity https://www.theguardian.com/uk-news/2017/dec/22/woman-abused-caldey-island-monk-waives-anonymity-joanna-briggs-thaddeus-kotik Fr Thaddeus Kotik
[46] 2019 May 14 ITV Calls for public inquiry into historical child abuse on Caldey Island as another victim comes forward 2019 Kevin O'Connell revisited Caldey Island with S4C ITV Wales also contacted the Diocese of Menevia in Swansea. FOI WHen do you have jurisdiction, why do you refuse to patrol? Despite contacting the Brother several times, he never responded.
[64] Victim 10, V11, "Caldey Abbey has worked to ensure this can never be repeated. We now have robust child protection procedures in place on the island including a child protection coordinator." Brother Daniel said the abbey was working with Children's Commissioner for Wales, however Sally Holland has denied that is the case.
FoxyFox Social Media
CathyFoxSubstack (archive of cathyfoxblog1)
RSS Feeds